Ampair 6000 video and on BBC television
A couple of weeks ago the BBC visited us to film for the BBC2 Working Lunch programme, including the Ampair 6000.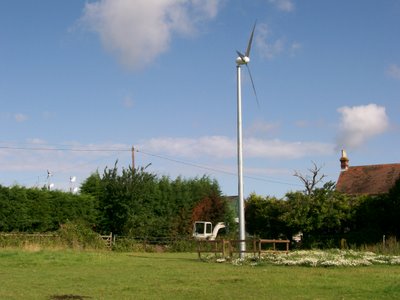 They broadcast the footage on the same day that the British government made a number of announcements about green jobs and their latest low carbon strategy. They edit things immensely so it doesn't matter how balanced we try to be as the odds are that the clip they use will only be a short segment. So they get the balance from the overall programme rather than from individual clips. In a way that's a pity because the interview segment they used with me was about jobs in the UK and I come across as being quite parochial but I guess that's par for the course and they do their best. They took some footage of the Ampair 6000 as well as the inside of our workshops which they used as the backdrop. They also contrasted our creation of a few jobs and being the UK's oldest turbine manufacturer with the announcements about the Vestas plant closing and the loss of about 600 jobs on the Isle of Wight. As I've said many times the UK government is a lot better at paying consultants to write strategy papers than it is at doing things in practice.
I was going to post the link to the BBC website for people to see but it cannot be viewed outside the UK and expires after two weeks. We did ask them about putting it on our website but it costs £1,150 for a 12-month licence for a 2-minute segment which is a joke. So I went out in the field this morning and took a clip of the Ampair 6000 running in winds between 4-6m/s. If you look carefully in the back left you can see smaller Ampair turbines on poles by our factory. This movie runs OK in QuickTime, not sure about other viewers.
Labels: Ampair 6000 wind turbine movie, Ampair on BBC2 television Working Lunch, IEC 61400-2 small wind turbines edition 3 (CDV), Vestas