International Small Wind Conference 2009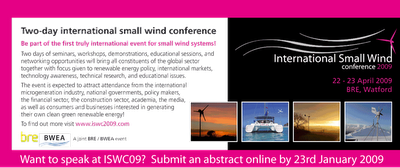 Two-day international small wind conference
Organised by BRE and BWEA
22-23 April 2009
Be part of the first truly international event for small wind systems!
In 2009 the UK will play host to BRE and BWEA's inaugural international conference, for a technology which is seeing unprecedented market growth the world over.
Small wind systems are taking off in a big way. Driven by government policy, planning, building regulations, climate change and increasing fossil fuel prices, microgeneration technologies are increasingly becoming an integral part of national, householder or business approaches to energy use and onsite generation.
Two days of seminars, workshops, demonstrations, educational sessions and networking opportunities will bring all constituents of the global sector together with focus given to renewable energy policy, international markets, technology awareness, technical research, and educational issues.
The conference will attract attendance from the international microgeneration industry, national Government, policy makers, the financial sector, the construction sector, academia, the media, as well as consumers and businesses interested in generating their own clean green renewable energy!
To register your interest for ISWC2009 and receive further information, contact Caroline McGill at events@bre.co.uk
-----------------------------------------------
This conference continues the sequence of one-day small wind seminars that BRE have been running for several years. It will be a two-day event which we as a small wind community can use to meet each other: suppliers, manufacturers, installers, clients, policy makers, and related parties such as planners and consultants. It is intended to be the European equivalent of the MREA Small Wind Conference that takes place in Wisconsin in mid-June each year.
Labels: IEC 61400-2 small wind turbines edition 3 (CDV), ISWC 2009; international small wind conference 2009, ISWIC 2009