Ampair 100 Mk1b reliability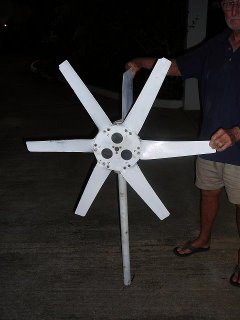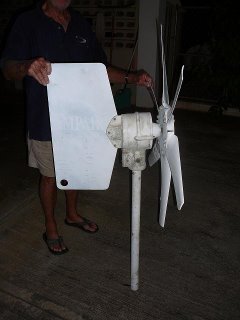 From time to time we get feedback from happy clients and never seem to do anything with it except to pass around the workshop and lose before we publish our next catalogue (complaints also get dealt with - we make our mistakes as well). Anyway I reckon I'll post them up from now on like this that came in yesterday and which is regarding an Ampair 100 Mk1b (serial # 1340):
========================================
15 February 2008 02:09
David,
Many thanks for your 12th.Feb.2008 mail re the subject Generator. The shaft diameter is indeed 17 mm.
I have disassembled the unit and cleaned the works and reassembled it,however, brushes need replacement.Even if it is assumed that the unit is approximately 22/17 years old,it has worked continuously thru those years some on a 60' Cat named "Tropical Dreamer" and then on shore at home here charging 2 batteries which power exterior lighting and a 12 volt pressure water[rain) pump which drip irrigates our front flower garden,or approx,250' of line,that is one hell of a good performance.
If you wish a testimonial to this effect you can draft one how you wish it worded and I will have it properly executed and returned to you. I hold a Certificate of Competency as Master issued by UK Dep. of Transport in 1956,a first Degree in Mechanical Engineering,was CEO Bridgetown Harbour from 1956 to 1992,have sailed with P & O and British India as a Deck Officer and have sailed from 8 years age and continue sailing to this day by the grace of God.
Also own a Hunter 29.5"Performance Cruiser and sail/fish her at least twice weekly.Have an 1972 CB Honda 400/4 Motor Bike which I completely restored in 2007 and ride almost daily.
I need 2 sets of brushes so please let me know what I owe and i will forward same.
Best regards/Peter
---------------------------
Peter,
It is almost certainly an Ampair 100 Mk 1b. If you measure the diameter of the shaft I think you will find it is 17.0 mm diameter. This version was made from 1985-1990 which is at variance with your comment that it is 30 years old. It was during the A100-Mk1a that the lower pivot housing casting received the reinforcement that shows up as a step in the silhoutte on the photo. If ordering parts please let us know this model information.
The manual remains a good guide to construction and use - see
http://www.boost-energy.com/UserFiles/Downloads/Ampair_100_manual.pdf
Like I said our motto is if it ain't broke don't fix it. You mention wanting brushes - if the old ones are working there should be no need to change brushes. But you can check those easily enough. Also we notice that there are some nicks out of the end of the blades. You can order new blades if you want, or you can just dress the nicks in the old ones with emery paper.
If you want to order let us know what you need.
Regards,
David
==============================================